A new physical activity strategy for Sheffield
Find out more
Move More Sheffield has revealed a new strategy and brand for the network. Enabling everyone in Sheffield to move more makes an important contribution to achieving the long term vision of creating a healthier, happier and more connected Sheffield. The new strategy, branding and website all went live this afternoon.  
This Girl Can week resources
Visit the supporters hub


From Saturday 12 June – Saturday 19 June, Sport England is putting the spotlight on women and exercise through a dedicated 'This Girl Can Week'.Calling for women across the country to 'choose you' by taking time out to get active in a way that works for them, organisations are encouraged to get involved to help inspire more women and girls to be active. The This Girl Can supporters hub has a number of resources to help you.  
Unsung primary school heroes inspire kids to be active more than professional athletes do, say parents Find out more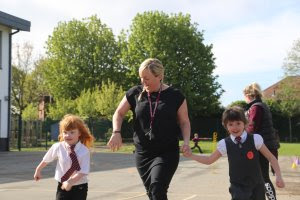 Children are inspired to be active more by primary school teachers than professional athletes, according to a new poll of parents of children aged four to 11 by ukactive and Savanta ComRes. The poll shows that 67% of parents in the UK think that teachers are 'fairly' or 'very' inspirational as role models for their child to keep active as opposed to athletes (60%).  
Poundland launches charitable foundation Find out more

The retailer says the Poundland Foundation will provide £825,000 to community groups over the next 12 months plus £2.5m over the next two years to three existing charity partners. The Poundland Foundation will start by providing sports kits for children through cash grants for community groups. The first grant window is now open.  
School Games virtual sports day returns in 2021 Find out more


The School Games sports day is returning for 2021, and it's inspired by some of the fantastic sporting action coming our way this summer.With the pandemic meaning it hasn't been possible to host School Games events throughout the current academic year, it once again means no traditional summer festival in South Yorkshire or West Yorkshire. But, just as in 2020, there's still the opportunity for schools to be part of something big.Taking place on Tuesday 6 July (South Yorkshire) and Thursday 8 July (West Yorkshire), primary schools from the two counties will be able to take part in a summer sports day, with sporting challenges linked to the big summer events of the year including the Olympics, Euro 2020, Wimbledon and the Rugby League World Cup. Challenges will be made available on YouTube.  
This Girl Can classes launching soon
Instructor training due to take place from August onwards. Please watch the webinar here for more details on this and please do contact EMD UK (details here) if you are interested in getting these to your area.

Coaches highly valued by the British public
New statistics, released by UK Coaching during UK Coaching Week, show that the majority of Brits believe coaches will help nation become fitter and more active. Find out more…

Boost the online presence of a club or group
Club Matters has teamed up with Energise Me to develop a new suite of resources to help with this. This includes a webpage explaining what an online presence is and why it matters.

Groundbreaking HSBC UK Breeze programme celebrates a decade of getting more women into cycling
A decade on from its inception, British Cycling and HSBC UK are toasting 10 years of the groundbreaking Breeze programme, which has now provided over 320,000 women with a safe, welcoming, and supportive environment to get on their bikes. Find out more…

Grounds Management Association secures £3.9m investment to help boost grassroots sport
The Grounds Management Association (GMA) announces a £3.9M investment from the Premier League, The FA, and Government's Football Foundation with Sport England to deliver the association's third phase of the pitch improvement programme for grassroots sports. Find out more…

Community Clubs set to benefit from new partnership
An exciting new partnership between the RFL and Play Fund Win is set to raise vital funds for community rugby league clubs across the country. Find out more…